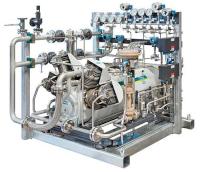 As part of its ongoing strategic development, Sauer Compressors Holding has acquired a 100% shareholding in HAUG Kompressoren AG. By integrating the Swiss company, Sauer Compressors has enhanced its already extensive portfolio with a broad range of oil-free and gas-tight piston compressors for compression of air and a variety of gases.
Following the takeover by J.P. SAUER & SOHN Maschinenbau Beteiligungsgesellschaft mbH (Sauer Compressors Holding), the company – which has been renamed HAUG Sauer Kompressoren AG – and all its sites are now part of the global Sauer Compressors Group. Sold under the HAUG brand name, the internationally renowned oil-free and gas-tight compressors meet even the most stringent requirements in terms of gas quality and considerably reduce operating costs.
The HAUG Sauer range is the perfect complement to the established product range of oil-lubricated compressors from Sauer. "By combining our expertise in compressor technology, both companies are benefiting from an enhanced range and a new presence in the market", says Harald Schulz, Chief Executive of Sauer Compressors. "Our complete range and combined service know-how enable us to be even more responsive to individual customer requirements."
With the enhanced product range, Sauer is opening up a variety of new markets and applications, including compression of special gases, oxygen and SF6 gas, and recompression of refrigerants such as C3F8, R10 or ammonia. When it comes to recovery and compression of carbon dioxide, users can also benefit from 120 years of experience in the manufacture of complete oil-free and hermetically gas-tight HAUG compressors.
Beat Frefel, the current Managing Director of HAUG Kompressoren AG, will continue in his role. He will be supported by co-director Franck Lallart, Directeur Général of the French Sauer subsidiary, Girodin-Sauer SAS. HAUG's former headquarters in St. Gallen will be developed as a centre of expertise for oil-free technology within Sauer Compressors.