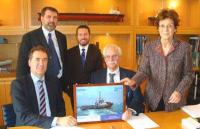 Damen is to construct a new ASD 3212 tug for Scafi, the Italian shipping group that includes a number of international towing companies. The contract cements their already strong business relationship that goes back 20 years and represents the first Damen ASD 3212 for Italian waters.
This is the fifteenth contract between Scafi and Damen. "We are delighted to work again with a respectable Italian owner such as Scafi," comments Damen Sales Director North West and South Europe Frank de Lange. "This contract extends a durable and happy business relationship."
Scafi ordered the new 32 metre state-of-the-art ASD 3212 tug as part of its programme of continuous fleet renewal and improvement of quality.