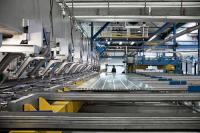 Sapa is investing in new machinery offering super-large and light products for the offshore and maritime industry with equipment that can produce panels up to 18 meters long and 3.5 meters wide.
"Our ability to join thin-walled lightweight designs into large panels will make a big difference for customers in the marine and offshore industries, where such sizes are best suited, and where cost savings are key. Reducing lead time significantly is another benefit," says John Thuestad, executive vice president responsible for Sapa's extrusion organisation in Europe.
Sapa has installed a new large-scale friction stir welding machine in Sweden offering single-sided and double-sided welding of aluminium profiles with material thicknesses up to 16 mm, produced as 18 x 3.5-meter panels. The panels can be produced curved as well as flat. Sapa is enhancing the technology by combining it with specially tailored alloys for marine and offshore use.
Increasing panel length by nearly 30 percent, as well as adding another half-meter in width, helps the oil and gas industry reduce the number of components used in the production of platforms and large offshore structures, compared with today. This reduces assembly time and cost spent in other areas, such as quality certification.
In the offshore oil and gas industry, weight saving is also one of the levers for reducing cost. It has a direct impact on transportation cost as well as cost and time for installation and decommissioning. In addition, more process equipment or storage can be placed on the same supporting structure.
The offshore and marine industries use aluminium commonly in structural applications, such as floors, framework, housing modules and helipads. In this area, Sapa develops and delivers machined, pre-assembled and finished components using its extrusion technology and friction stir welding techniques.
The friction stir welding (FSW) machine that Sapa has installed at its plant in Finspång, Sweden, is the largest in Europe and one of the largest in the world. It will become fully operational in October.
FSW joins flush metal surfaces through the effects of a rotary tool, pressure and heat. No filling is needed, and FSW provides better properties and less heat deformation than other forms of welding. Double-sided welding is faster and generally produces higher quality results than single-sided welding.
As the first company in the world, Sapa introduced friction stir welding in 1996 to enable a process of solid-state joining as a production method. The method drastically advanced Sapa's production and has brought to life new applications for customers the world over.