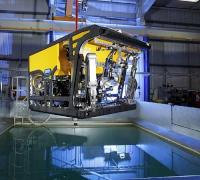 Scantrol recently received an order for supplying an Active Heave Compensation (AHC) control system to Soil Machine Dynamics Limited (SMD). The AHC will be integrated to an SMD designed 6000m Umbilical Winch system by their dedicated Deck Equipment Business and deployed on board a new vessel owned by Shanghai Salvage.
Shanghai Salvage Company (also known as China Offshore Engineering Shanghai, Co), a state owned entity who who is a specialist in offshore installation, offshore structure decommission, IMR, ocean-going towage, AHTS service, oil field platform supply, diving, salvage and wreck removal, signed an order with SMD for a Quasar MKII 6000m remotely operated vehicle (ROV) in September last year. Scheduled for delivery in the first half of 2017, the system will include a full suite of equipment suitable for both deep sea salvage and oil and gas operations. Scantrol, who has a history working with SMD to supply AHC controls for its ROV handling systems, was again chosen as partner for the project.
Michael van Zwanenberg, principal engineer for SMD explains, "Integration of the Scantrol AHC into the SMD Umbilical Winch is simple and provides a robust AHC solution. We already have clients in the field using these Winches and they are extremely pleased with how the system operates and its responsiveness to the vessels motion."
"Scantrol is proud to be a chosen AHC partner for one of the world's leading manufacturers of remote intervention equipment. This confirms that our products are of a high standard that suits customer needs and expectations," says Rolf Hjelmeland, Business Developer Manager.
The company is experiencing a growing interest from the operators to have AHC for ROV handling equipment, both for smaller and larger sized remote operational vehicles. Extended weather window, decreased risk of ROV damage, auto-depth functions and monitoring of the umbilical are all important reasons for including this function in the system. All these benefits emphasises SMD's aim to guarantee zero vehicle down-time. Furthermore ticking the box for having AHC function installed in the systems on board a vessel can in many cases decide if an operator wins a contract or not.
"For many operators having AHC on one or several handling systems may be critical for winning a contract in today's market. For most vessel owners the investment of including the AHC function can easily be returned by avoiding downtime with expensive day and project delay rates for the vessel," explains Hjelmeland.
China has been, and will continue to be a target market for Scantrol in the future. The company recently signed a contract with a new agent in China in order to be even more present to make AHC available for Chinese manufacturers. A Chinese web site was launched late last year and the company have an extensive plan for marketing activities in the Far East.
"We believe that there is great potential for AHC in the Chinese market and we want to make this function available to all those companies that do not have this technology in-house. The Shanghai Salvage project is a very interesting project and will be an important reference for Scantrol in China," says Marketing Communications Manager, Anette Isabella Bergaas.