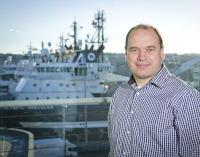 International project services consultancy, Cambla, is set to release a new version of its state-of-the-art software, the Schedule Animation Tool (S.A.T.), next week to the global oil and gas industry during its exhibit at SPE Offshore Europe 2015.
The technology is a world-first, which has been developed to improve the accuracy, and significantly reduce the costs, time and safety risks associated with planning subsea operations. An online application, S.A.T. provides an accurate visual representation of a vessel's location and planned activities, and increases engagement within a project team and external stakeholders.
S.A.T. was initially launched to the market in February 2015, and as a result of high demand, a number of upgrades have been made to the new tool including increased fleet management capabilities, an enhanced data input system, a function to display fixed infrastructures including oil and gas platforms, FPSOs, and wind turbines, a listing of all scheduling issues, and the animation models can now be produced faster, significantly reducing the man-hours required to plan vessel operations.