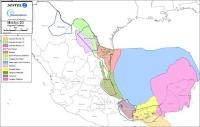 Schlumberger and Seitel have announced a strategic multiclient alliance to reimage and acquire new geophysical data in key areas across onshore Mexico. Approximately 25,000 kilometres of 2D seismic data from Mexico's National Hydrocarbons Commission (CNH) data library will be reimaged covering lease blocks in the current Bid Round 2, as well as future onshore lease round blocks. In addition, new multiclient data acquisition projects are already in development.
The newly reprocessed seismic data and any new acquisition projects will provide subsurface images of proven oil and gas reservoirs in the Sabina-Burgos, Tampico-Misantla, Veracruz and Sureste areas, as well as the under-explored Chihuahua province, and other strategic areas. The reimaging program covers both conventional and unconventional onshore lease blocks in the areas.
"The areas for reimaging were strategically selected to deliver regional analysis of the prospective plays across onshore Mexico with both organisations using high-end processing workflows," says Maurice Nessim, president, WesternGeco, Schlumberger. "This alliance capitalises on each organisation's strong commitment to Mexico exploration over some of the largest onshore Mexico fields, including the onshore Cuenca del Sureste Basin, which shares many hydrocarbon system elements with the prolific Pilar Reforma-Akal in the shallow water Campeche area."
"In 2015, Seitel was one of the first companies to expand its data library coverage into Mexico, and we have seen great enthusiasm from our customers for the onshore data already available for license," says Seitel Chief Executive Officer, Robert D. Monson. "We are excited to form this alliance with Schlumberger as we continue to expand our library and continue to provide additional value to our customers."
Leveraging both companies' extensive experience in onshore imaging and multiclient projects, the program offers clients the first modern regional seismic images in these areas. Final products over the prolific fields of the Tampico-Misantla Basin are available for license now.