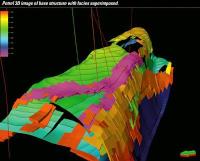 Schlumberger Business Consulting (SBC), the management consultancy arm of Schlumberger, has expanded its senior leadership team with the appointment of six vice presidents. The management team appointments coincide with the launch of a new office in Moscow; the growth of offices in Beijing, the United Arab Emirates, Singapore, and London; as well as the expansion of the Rio de Janeiro office, which will now cover clients in Southern Cone countries.
Antoine Rostand, SBC global managing director, commented: 'The management challenges faced by our industry are becoming increasingly complex as we move to deeper waters, unconventional resources, and new sources of primary energy. Energy industry decision makers need a trusted advisor that truly understands the complexities and solutions to the biggest industry challenges. The recent office expansions and the talent we have just harnessed further affirm SBC's status as the one true management consulting advisor with the strategic and operational insight, global reach, and practical experience needed to provide a material impact on the oil and gas sector.'
Launched in 2004, SBC has rapidly grown to become one of the world's largest energy sector management consultancy firms. It works with global energy leaders and many of the world's IOCs, NOCs and independents.
Tamas Seregi (Moscow, Russia): Prior to joining SBC, Mr. Seregi was Partner and Managing Director at Boston Consulting Group's Moscow office where he led the energy practice in the CIS. He has also worked as a Country Representative in Romania for the Hungarian oil and gas corporation, MOL, where he focused on expansion into the Romanian market including several acquisition projects. Tamas holds a Petroleum Engineering degree in Petrochemical Technology from the University of Veszprem in Hungary, an Economics degree from the University of International Trade & Commerce in Budapest, Hungary, and an MBA from the Marshall School of Business, University of Southern California in the United States.
David Williams (London, UK): Prior to joining SBC, Mr. Williams spent two years at Deloitte Consulting as Global Leader for National Oil Companies, and was based in the Middle East. Prior to that, he led Deloitte's management consulting services for the Energy, Infrastructure, and Utilities industries in the United Kingdom. He holds a Physics degree from Oxford University and an MBA from the University of Bath in the United Kingdom.
Friedrich Portner (Abu Dhabi, UAE): Prior to joining SBC, Mr. Portner spent seven years in management consultancy roles, including as Principal at Roland Berger Strategy Consultants in the Middle East, where he focused on the oil and gas, chemicals, steel, construction and materials industries implementing projects in strategy, organizational optimization as well as corporate transformation and development. He was also a Senior Associate for Booz & Co. in their Middle Eastern energy practice. Friedrich's industrial experience stems from various management positions held at ABB Utility GmbH and ABB Reaktor GmbH in Europe and the MENA region. He holds a Masters degree in Electrical and Power Engineering from the University of Hanover and an MBA from INSEAD.
David Rabley (Singapore): Prior to joining SBC, Mr. Rabley was Director at Accunomics and Co-Leader of the Singapore Office. Before that, David was an Associate Principal at McKinsey & Company where he led the Procurement and Supplier Management Practice in SE Asia, and was a leader in the Global Energy and Basic Materials Practice. He has over 11 years of management consulting experience serving leading organizations across EMEA and Asia and leading large transformation programs across the oil & gas, mining, steel, cement, and logistics industries. He holds an Economics degree from the University of Cambridge and an MBA from INSEAD.
Alan Trench (Rio de Janeiro, Brazil): Prior to joining SBC, Mr. Trench was Associate Principal at McKinsey & Company where he led a range of studies primarily focused on oil & gas, energy, and basic materials (steel, cement) across several international settings which include South America, Europe, Central Asia, and the Far East. Prior to that he worked at TOTAL S.A. in several upstream and downstream roles where he led strategic and transformational initiatives across the Commercial, Accounting, and Business Development divisions. Alan holds an MBA degree from The Red McCombs School of Business at The University of Texas in Austin and a B.S. in Business Administration from the Pontificia Universidad Católica Argentina.
Min Cao (Beijing, China): Prior to joining SBC, Min spent ten years in management consultancy roles, including Manager at Bain & Company, Associate Director at PriceWaterhourseCoopers, and Senior Associate at the Boston Consulting Group. She has extensive experience in project management & execution and strategy/private equity in the Greater China area across various sectors (energy and resources, upstream oil & gas, industrial goods and services). She has a business degree from ESSEC Business School, a B.A. in International Law and Foreign Affairs from China Foreign Affairs University, and a B.A. in Economics from Beijing International Studies University.