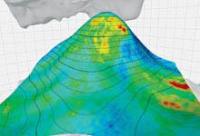 Schlumberger has launched the Depth Domain Inversion Services. Schlumberger petrotechnical experts use the services to improve the reliability and consistency of seismic structural and quantitative interpretation in complex environments.
"Conventional seismic inversion in the time domain introduces inconsistency between the seismic images and the rock properties, especially where there's a significant overburden, such as subsalt," said Maurice Nessim, president, Schlumberger PetroTechnical Services. "With Depth Domain Inversion Services, customers receive more information derived from seismic data for reservoir characterization. This helps reduce uncertainty in complex reservoir environments, improve the confidence in prospect delineation, reservoir properties and volumetric calculations."
Performing seismic inversion in the depth domain fully integrates the inversion with the imaging products to improve the reliability of estimating rock properties for reservoir characterization. This is done by correcting for depth space and dip dependent illumination effects during seismic amplitude inversion directly in the depth domain.