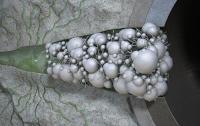 Schlumberger has announced the launch of OpenPath Sequence* diversion stimulation service. The new service sequentially diverts acid into additional clusters or zones to maximise wellbore coverage, resulting in more precise treatment placement and greater production when compared with conventional methods.
OpenPath Sequence service is the first in the industry to use degradable fibers to suspend multimodal particles that enable sequential stimulation of intervals in acid stimulations. Suitable for both cased and openhole completions, the service can be used for acid fracturing or matrix stimulations in carbonate reservoirs. The service is also suited for restimulation treatments in mature fields.
"With acid stimulations, it is often challenging to achieve the wellbore coverage needed to optimise recovery," says Amir Nessim, president, Well Services, Schlumberger. "Often mechanical isolation is not a feasible option due to operational constraints. OpenPath Sequence service provides reliable, accurate zonal coverage with the added benefit of more streamlined operations for both cased and openhole completions."
This acid diversion stimulation service has been tested in reservoirs in the Middle East and in North America, resulting in proven diversion and significantly improved production.
In the Middle East, a customer wanted to stimulate two separate zones with multiple clusters in a vertical well. Effective diversion using OpenPath Sequence service was indicated by an increase in diversion pressure and confirmed by injection logs. In addition, the productivity index improved by more than 300% with an increase in production to 1,200 bbl/d from 350 bbl/d.
In the Permian Basin, a customer needed to bring a vertical injector well with a 1,000-ft-interval and multiple perforation clusters back into production. After OpenPath Sequence service was used to treat the laminated carbonate formation, tracers confirmed diversion between stages as well as the stimulation of all perforated intervals. After the operation, the initial fluid production of the well was 600 bbl/d, exceeding operator expectations.
OpenPath Sequence service is the first release of a family of OpenPath* stimulation services aimed at maximising well productivity in conventional and unconventional reservoirs.
*Mark of Schlumberger