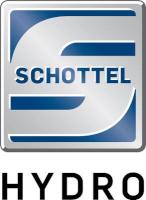 SCHOTTEL, manufacturers of ship propulsion solutions, has founded a new subsidiary - SCHOTTEL HYDRO GmbH. The new company will incorporate SCHOTTEL's hydrokinetic energy business. SCHOTTEL HYDRO comprises activities in three segments: hydrokinetic turbines, semi-submerged platforms and components, such as turbine hubs and drives. SCHOTTEL HYDRO is located in Spay, Germany, while around 100 SCHOTTEL sales and service locations ensure customer proximity worldwide.
"Since a few years we have been working on the development of highly efficient, reliable and cost-effective solutions for gaining instream energy," explains Prof. Dr. Gerhard Jensen, CEO of SCHOTTEL. "SCHOTTEL HYDRO allows us to dedicate even more to hydrokinetic energy solutions. By now we are involved in projects around the world and aim at a full penetration of the emerging hydrokinetic energy market with our solutions and products."
Hydrokinetic turbines
SCHOTTEL hydrokinetic turbines are lightweight, yet robust instream generators, with a rotor diameter between three and five meters. Depending on the current velocity, one turbine produces between 54 and 70 kW rated, grid-ready electric power. Higher power demands are met by combining several turbines in one installation. Each of the turbines is connected to a frequency converter feeding into a common DC bus installed on the tidal platform.
The turbines can be implemented in rivers, sea straits and tidal races offshore in jetty, semi-submerged or submerged platforms in varying numbers. Even the installation at sites with restricted water depth is easy due to the small size of the turbines.