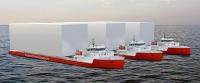 Having already secured the contract in early summer to fit 15 Vard design 9 21 module carriers, propulsion specialist SCHOTTEL has now also received a follow-up order to fit three further Vard design 9 28 vessels with 12 main and auxiliary units. For the Norwegian Vard Group, who are building the first-mentioned 15 vessels for Topaz Energy and Marine, UAE, and the later three for KMTF, the National Maritime Republic of Kazakhstan, it was SCHOTTEL's experience and service in the Caspian Sea that made all the difference.
In these waters, that are clogged with mud, fishing nets and fishing lines, as well as being extremely shallow in places, SCHOTTEL can look back on many years of experience with its service-proven sealing systems and product variants in other customer fleets. A further argument that also carried weight with the operator was SCHOTTEL's on-site service, enabling downtime to be kept as short as possible.
A total of 36 special variant SRP 340 Rudderpropellers (formerly SRP 1012) were ordered as the main propulsion units for all 18 carriers. Along with them, 30 STT 1 CP transverse thrusters are being used as well as six SPJ 132 Pump Jets as an additional manoeuvring aid in the three wider vessels. The delivery period is scheduled for the twelve months leading up to the end of 2017.