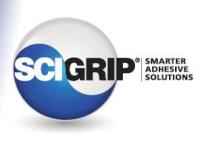 SCIGRIP continues to expand their sales presence in Central Europe with the assistance of Polish adhesives supplier, Alugraf.
SCIGRIP was formed following the merger of two global leaders in the adhesives industry, Weld-On and Holdtite. Both manufacturers possess over 65 years of experience and knowledge in the production and supply of bonding solutions.
SCIGRIP predicts their products will have broad appeal to Central European manufacturers working within the marine, automotive, rail, agricultural, construction and recreational vehicle sectors.
"Huge opportunities exist in this region. There is a strong requirement to replace traditional and often time consuming production methods with high strength, reliable adhesive bonding processes. With Alugraf's support and superior knowledge of our products we feel confident our technologies will be well received," comments Mark Rogan, SCIGRIP's European Sales and Marketing Manager.