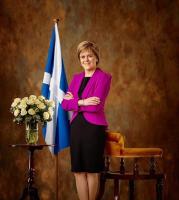 Registration for All-Energy, the UK's largest renewable and low carbon energy exhibition and conference, opens online with the news that Scotland's First Minister, Nicola Sturgeon, will speak in the opening plenary conference session on 10 May.
The 17th All-Energy will be held at the Glasgow Event Campus (SEC – formerly SECC) on Wednesday 10 and Thursday 11 May, bringing together some 7,000 participants from home and overseas; 400 exhibiting companies from 16 countries; and a packed multi-stream conference and seminar programme with around 400 speakers. As always, all elements of All-Energy – the exhibition, the conference and the Giant Networking Evening - are free to attend for all with relevant professional/business interests. Online registration is open at www.all-energy.co.uk
"We are delighted to be welcoming Scotland's First Minister to the show on opening morning," says All-Energy's Event Director, Jonathan Heastie of organisers, Reed Exhibitions. "It's an event that buzzes with enthusiasm from exhibitors eager to do business and visitors just as eager to learn and to engage with exhibitors and conference speakers. We have a superb exhibitor list with a broad range of highly relevant exhibits, and a stellar conference line-up. The First Minister's presence will add to both the topicality and significance of the programme.
"This is an important time for Scotland's energy plans. The consultation period for the Scottish Government's draft Energy Strategy will still be open at the time of All-Energy, meaning that there will be much buzz in conference sessions and on the exhibition show floor about responding to the acclaimed far reaching and ranging document. It sets out Scotland's vision of achieving almost complete decarbonisation of the energy system; and setting a new 2030 'all-energy' target for the equivalent of 50% of Scotland's heat, transport and electricity consumption to be supplied from renewable sources.
"All-Energy is proudly based in Glasgow," he adds. "But of course it looks beyond Scotland to the wider United Kingdom and to overseas issues and opportunities. Two of our overseas exhibiting countries – the Czech Republic and Taiwan will be holding special conference sessions; and the Department for International Trade (DIT) will be encouraging UK companies to join the export drive. Naturally the world-class conference looks at activities far and wide in over 50 conference sessions, as well as our exhibition show floor 'Quick Fire' seminar theatres.
"The conference programme is live on our website I urge you to take time to read it – it is an exciting programme with innovations such as the All-Energy Marine Renewable Energy Investment Challenge (if you are eligible, make sure you submit your business plan before the end of March!); discussion by the UK's key offshore wind stakeholders about the ever-present challenge of lowering costs; dedicated sessions for the farming community; and on investment; the grid; energy storage and so much more."
Not only will the First Minister play her role in the All-Energy opening session, but Scottish Government officials will have a role to play in sessions such as Energy Efficiency and Onshore Wind (also on 10 May) and Local Energy and Heat (both on 11 May), as well as in the bioenergy, carbon capture and storage, hydrogen and fuel cells, hydropower, marine renewables, and offshore wind sessions. In addition to the main conference the 'Quick Fire' exhibition show floor theatres are devoted to Marine Renewables; and Community/Local Energy (10 May) and Offshore Wind; and Energy Efficiency (Day 2).
Other special sessions include the Innovate UK infrastructure systems innovation showcase; the H2FC SUPERGEN Hub lunchtime session on three hydrogen and fuel cells White Papers; a networking lunch for ocean energy companies and university students considering their new careers; and the All-Energy Women's Speed Mentoring Event; details on all are on the All-Energy website.