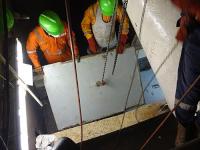 FSO Komi Kribi 1 (KK1), converted in 1977 from a VLCC and operated by ExxonMobil for Cameroon Oil Transportation Company has had its sea chest, bottom shell and bulkhead reinstated using SPS. The repair took place 11 kilometres off the coast of Cameroon using steel workers from Cameroon Shipyard and Industrial Engineering Ltd (CNIC). The SPS repair was approved by Bureau Veritas.
Kevin Reilly, Intelligent Engineering (IE) project manager, comments, "This below the waterline repair was crucial in allowing the FSO to continue operating. It was undertaken on-station with no need to halt normal operations. Unlike traditional repair methods no cofferdam, divers or dive support vessel and team were required. It was a challenging repair however we managed to complete it to the client's satisfaction."
A 10-mm top plate and 25-mm elastomer core were used to reinstate the 25 m2 area.
Chris Williamson, FSO KK1, Chief Engineer says of the repair, "The entire team worked very hard and completed a difficult task like professionals. This type of work in a pump room on an operating oil tanker is not an easy task. The SPS was impressive and I can see areas where it can be utilised in the future."
In a second below waterline repair on board a floating storage unit, a 10-m2 area of bottom structure was reinstated during a four day voyage to its station. By using SPS the client was able to save on dry-docking and lost schedule.