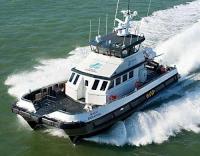 DONG Energy has awarded class-leading offshore energy support vessel operator, Seacat Services, with the supply contract for all crew transfer services at its 258-MW Burbo Bank Extension project under development in the Irish Sea.
The four-vessel charter contract, with durations of 3 to 11 months, is the second such agreement signed between Seacat Services and DONG Energy in 2016, following the confirmation of a four-workboat construction support deal for the Race Bank Offshore Wind Farm in April.
With a handful of remaining "Round 2.5" extension projects due for installation in UK waters in 2016 ahead of the upcoming Round 3 construction phase, this latest supply agreement is a further vote of confidence in the ability of domestic vessel operators to deliver the high standards of support required to keep increasingly complex projects on track.
The Burbo Bank Extension project will see the installation of 32 MHI Vestas 8MW turbines, significantly boosting the capacity of the existing 90MW Burbo Bank Offshore Wind Farm in Liverpool Bay. With offshore construction due to commence in May 2016 and complete in Q2 2017, Seacat Services will deploy four of its class-certified catamarans, including Seacat Defender, Seacat Volunteer, Seacat Vigilant and Seacat Endeavour, to support the installation of turbines and offshore transmission infrastructure.
"Offshore wind continues to create significant opportunities for the UK maritime sector," says Ian Baylis, Managing Director, Seacat Services.
"Supporting the Burbo Bank Extension project, in combination with the recent Race Bank charters, will create prospects not just for crews and support teams directly involved on the projects, but also for future apprentices and trainees entering a career in offshore wind."
"With the Round 3 construction boom imminent, these long-term projects are simultaneously helping to sustain the momentum of the industry and preparing us for the next exciting phase of UK offshore wind development."
Claus Bøjle Møller, Project Director for Burbo Bank Extension, says, "DONG Energy is absolutely committed to investing in the UK and we are delighted to be working with Seacat Services for use of their vessels that operate out of the Isle of Wight.
Fostering strong domestic supplier relationships is a key part of ensuring that we benefit from the wealth of local expertise in the UK sector."
Seacat Services' operations at the Burbo Bank project commenced on 25th April 2016.