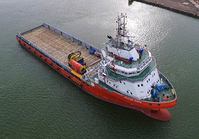 A new integrated "Full Picture" technology delivery is set to enable significant operational efficiencies for the MEXMAR owned platform supply vessel (PSV), SEACOR Maya. Mantenimiento Express Marítimo SAPI de CV is SEACOR Marine's joint venture in Mexico, which operates 15 offshore supply vessels. The contract, signed this September for delivery in January 2018, focuses on the integration of a sophisticated new hybrid power solution designed by KONGSBERG to assist SEACOR Marine and MEXMAR in meeting strict environmental regulations by decreasing CO2, NOx and SOx emissions, with the added benefit of reducing operating costs through reduced fuel consumption.
SEACOR Marine and MEXMAR have chosen KONGSBERG as a single supplier for this turnkey delivery, including supply and full integration of the energy storage system with a custom designed Energy Control System (ECS), and the existing Dynamic Positioning (K-Pos DP-22) and Integrated Automation System (K-Chief 700 IAS), both of which will be upgraded as part of the contract. The overall solution adds safety and efficiency beyond conventional energy storage.
The upgraded K-Pos DP-22 system functions include Power Load Monitoring and Blackout Prevention. The system will display all battery data including capacity and status, all of which support the operational continuity of SEACOR Maya and improve its ability to maintain position on DP even after a worst-case single thruster or power failure.
The ECS is made possible by combining existing and upgraded K-Pos, K-Chief and K-Thrust functionality through tight synchronised integration to deliver unique new features at the cutting-edge of DP technology. Core components of the system include Dynamic Load Prediction, Dynamic Inertia Control and Dynamic Hybrid Control combined with an Automatic start/stop strategy. This optimisation enables significant fuel efficiency while also extending battery life, lowering lifetime costs and maximising the investment in hybrid power. The contract includes an option for a second vessel.
"On completion of the upgrade, SEACOR Maya will feature one of the most advanced powertrain solutions of any vessel at sea," says Tim Clerc, Manager of Engineering, SEACOR Marine. "The hybrid power solution has the potential to significantly reduce operational costs while at the same time provide access to new functionality for improved safety and effectiveness of DP operations. The solution is complex, but KONGSBERG's focus on combining established, class-leading technologies through deep integration delivers a highly reliable platform for SEACOR to benefit from the use of cutting-edge hybrid power."