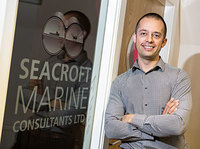 An Aberdeen-based maritime specialist has launched 500-metre Zone Management assurance and auditing for offshore Installations following the success of their training courses for offshore installation personnel to help address safety concerns.
Seacroft Marine Consultants has developed a new assurance process to continue to monitor operational safety standards after providing initial training to help installations manage ship movements when they come close to platforms.
It is the latest development from the leading marine assurance providers which builds upon training it launched earlier this year for offshore installation personnel responsible for vessels operating within the safety zones.
The company aims to raise awareness of the need to control marine operations inside the 500-m zone around offshore installations following Health and Safety Executive concerns regarding the control and monitoring of support vessels.
With 97% of collisions occurring within the 500-m zone involving vessels there on legitimate business, the company offers guidance, recommendations and training courses on how to improve existing practises and safety and now ongoing assurance to verify that standards continue to be maintained.
Michael Cowlam, technical director at Seacroft Marine Consultants, says, "Vessels colliding with offshore installations have long been considered a major risk, and there is a new focus on having more robust and effective procedures in place to address this. While collisions are relatively uncommon, there have been a number of incidents in recent years which have led to increasing concern from the HSE and other industry organisations about the potential risks involved."
"As well as a training course, we have developed audit and inspection templates for installation personnel to monitor ships within the 500-m safety zone. These complement our training and it is easy to check if the procedures are still being followed," adds Cowlam.
The safety zone is the area extending 500 m from any part of an offshore oil and gas installation, and is established automatically around all installations. Subsea installations may also have safety zones to protect them which are created by statutory instrument.
The safety zones exist to protect the safety of the people working on, or in the vicinity of, the installation.
The Industry has also recently published guidance against the risk of a major incident, loss of production and costly damage to facilities.
Cowlam continues, "Our marine operations specialists can advise on the responsibilities of installation operators and provide training to improve safety and continually monitor compliance with such processes. The audit and inspection templates for installations complement training we also offer for vessels about the 500-m safety zones so that both perspectives are covered. It is crucial to consider monitoring and auditing how the safety zones are being managed. As well as this, planning and communication is essential, along with awareness of both good and bad practices. This is where we can help and we would urge any company looking at this aspect of their operations to get in touch with us and find out more."
The next stage of the project will see a review of potential technical solutions to identify products which can further enhance monitoring of vessel approach speeds, headings and proximity to offshore Installations with more precision using instruments and on-screen displays onboard the installation.