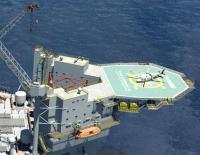 Seadrill Limited has entered into an agreement to acquire the company that owns the yard construction contract of the newbuild high specification jack-up rig Prospector 3 from Prospector Offshore for a total purchase price of US$235 million. In addition, Seadrill will provide drilling and handling tools, spares and operations preparations resulting in a total cost for this rig, ready to drill, of approximately US$250 million.
The Prospector 3 is scheduled to be delivered from Dalian Shipbuilding Industry Offshore Co., Ltd. (DSIC Offshore) in China during the first quarter of 2014. The new unit is based on the F&G JU2000E design, with water depth capacity of 400ft and drilling depth of 35,000ft.
The agreement with Prospector is subject to approval by DSIC Offshore.