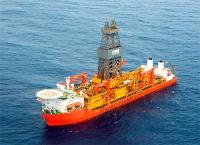 Seadrill Limited has entered into an agreement with Seadrill Operating LP (Seadrill Operating), the 58% owned subsidiary of Seadrill Partners LLC (Seadrill Partners), pursuant to which Seadrill Operating will acquire all of the shares of Seadrill Polaris Ltd. (Seadrill Polaris), the entity that owns and operates the drillship, the West Polaris (the "Polaris Acquisition") from Seadrill. The Polaris Acquisition is expected to close within 7 days.
The West Polaris is a 6th generation, dynamically positioned drillship delivered from the Samsung shipyard in 2008. The West Polaris is expected to carry out operations in Angola until the end of its contract with ExxonMobil in March 2018.
The total consideration for the Polaris Acquisition is comprised of $204 million in cash and $336 million of debt outstanding under the existing facility financing the West Polaris. Seadrill Operating will fund the balance of the purchase price with a seller's credit of $50 million due in 2021 that carries an interest rate of 6.5% per annum.
Based on the assumed present value of the seller's credit, excess dayrate to be paid to the Company under the current drilling contract and assumed excess dayrate to be paid to the Company following the conclusion of the current drilling contract, the board of directors of the Company believes that the total value proposition of the Polaris Acquisition for Seadrill is approximately $750 million.