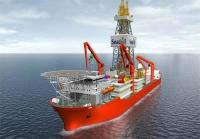 Seadrill Limited has entered into an agreement with Seadrill Partners pursuant to which the Company will sell to Seadrill Capricorn Holdings LLC, Seadrill Partners' 51% owned subsidiary ("Capricorn Holdings"), all of the ownership interests in the entities that own and operate the drillship, the West Auriga (the "Auriga Acquisition").
The Company owns the remaining 49% interest in Capricorn Holdings. The Auriga Acquisition, which is expected to close within 30 days, will be accomplished through a series of purchases, contributions and assumptions of debt and is subject to the satisfaction of certain closing conditions.
The West Auriga is a 6th generation, dynamically positioned drillship delivered from the Samsung shipyard to its current customer, BP, in October 2013.