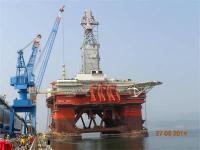 Seadrill Limited has been notified by Husky Oil Operations Limited (Husky) of the cancellation of the drilling contract for the West Mira (The Unit).
In the fourth quarter of 2012 Seadrill was awarded a 5 year contract for the West Mira with Husky for operations in Canada and Greenland. The total estimated base revenue potential was approximately $1 billion. As stated in the Company's second quarter earnings report, due to the late delivery of the Unit, the Company had tentatively agreed with Husky to reduce the dayrate on the West Mira. The construction contract was subsequently cancelled by Seadrill due to the Shipyard's inability to deliver the Unit within the timeframe required under the contract.
Seadrill remains in discussions with Husky to find an alternative solution to meet its drilling requirements.