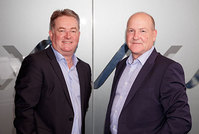 The Seanamic Group has announced its acquisition of Flexlife, the specialists in the integrity management of flexible pipelines and umbilicals.
Seanamic, which is backed by the Piper Jaffray-managed Simmons Private Equity II (SPE II) fund, has acquired the share capital of Flexlife's trading businesses in both the UK and US.
Flexlife uses its patented monitoring and repair technologies to maximise the performance of critical subsea assets. Flexlife operates from offices in Aberdeen and Houston, and its technology is being used globally.
Flexlife's CEO Garry Millard, who joined the business in 2014, says, "Being part of the Seanamic Group opens Flexlife up to a new and invigorating future. We can go forward confident of financial stability, to explore growth opportunities in Subsea Integrity Management and continue our successful history of R&D. Our customers will have access to a unique portfolio of products and services from diverse companies, resulting in a simplified and more efficient supply chain."
Founded in 2014, the Seanamic Group comprises Caley Ocean Systems, IMES International and Umbilicals International, and serves clients in the international energy, defence and seismic industries. The Group employs more than 120 staff in the UK and Houston.
Martin Barnes, CEO of the Seanamic Group, says, "This is a significant step in the evolution of Seanamic. Our customers now have access to proven subsea monitoring and repair technologies and specialist subsea engineering. Our combined engineering capabilities and advanced monitoring technologies means we can offer a fully integrated Subsea Integrity Management service to support the performance and life extension of flexible and umbilical assets. I would like to welcome Flexlife to the Group, and am looking forward to working with Garry and his team as we enter this new chapter."