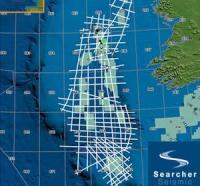 Searcher Seismic in conjunction with project partner MAGE, is pleased to announce the Echidna Regional Broadband 2D seismic survey in Ireland.
The Echidna Regional Broadband 2D seismic survey comprises of approximately 9,000 km of high quality, long offset broadband 2D seismic data and will be the first comprehensive well-tie survey covering the Atlantic Margin off western Ireland.
The survey will cover the Goban Spur, Porcupine and Slyne Basins, and includes well-tie to over 30 exploration wells.
The survey also incorporates the Connemara and Burren oil fields and the Spanish Point gas discovery.
Jan Gunnar Opsal, Norway Country Manager for Searcher Seismic, said the rift systems associated with these basins are among the most interesting exploration targets in the North Atlantic, with recent drilling results indicating considerable oil potential.