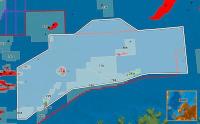 Searcher Seismic is to begin Phase 2 of the Silver-Eye Broadband 3D seismic survey in the Barents Sea, Norway.
Following the successful acquisition of Phase 1; comprising 2,663 square kilometres, Searcher is now acquiring additional broadband 3D data in the area.
Phase 1 of acquisition was completed in September 2015 withdata processing revealingexciting results for both conventional and unconventional play models, supporting the need for Phase 2. Acquisition of Phase 2 is scheduled to commence in April 2016 with a PSTM data volume being made available in November 2016.