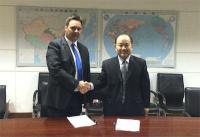 Searcher has signed a commercial marketing agreement with BGP.
As a result of this agreement Searcher provides BGP with an exclusive right to market the Searcher multi-client 2D and 3D seismic library within China and receive commission fees on the sales of this data.
The agreement covers more than 900,000km of 2D and 80,000km2 of 3D seismic data from Searcher's global database.
Rachel Masters, Global Sales Manager for Searcher, said the agreement with BGP is very exciting for Searcher and opens the door to the Chinese based oil companies as they look to expand their presence around the globe.
"We see this as an excellent opportunity to further strengthen our relationship with BGP and look forward to marketing our existing data and also developing new projects for the Chinese market," Ms Masters added.