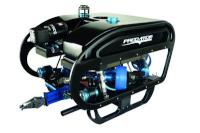 Seatronics has successfully triggered a Percussion Actuated Non-electric (P.A.N.) disrupter subsea, with its Predator Remotely Operated Vehicle (ROV), whilst maintaining station keeping during a live fire mission.
Manufactured and developed by Seatronics, the Predator ROV has been designed to function in all market sectors due to its compact and portable structure, ensuring easy deployment and operation.
Seatronics established the Predator ROV Elite System as a Bomb Squad Capable Improvised Explosive Device (IED) ROV specifically designed to perform demonstrations in conjunction with Great Eastern Group (GEG) for the US Maritime Bomb Squads. A demonstration of the unit was conducted in April 2015 in response to requirements outlined by the nation's bomb squad community and the Port of Los Angeles / Long Beach Port Dive Operations Group (PDOG).