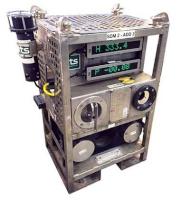 Seatronics, an Acteon company, and Norwegian associates RTS, have achieved 100 successful global installations with the Subsea Deflection Monitoring system (SDM).
The SDM system aims to reduce the risk associated with both large and small installations. The system has an extensive history of successful operations in comparison to newer alternatives in the market.
The SDM is a time-saving monitoring solution used for the deployment and installation of subsea structures. Time-stamped data from pressure and attitude sensors are transmitted through an ROV hot stab connection or an acoustic modem. When installing the structure, the operator has full online feedback of its heading and deflection. The hotstab serves as a contingency solution where power and telemetry from an ROV can run the SDM. Additionally, subsea displays provide gyro, pitch and roll data. The SDM also includes remote control of all connected sensors, optional differential pressure monitoring of suction anchors, external sensor capabilities and customised logging intervals for long-time structure surveillance.
Phil Middleton, group managing director, Seatronics, comments, "The SDM system has an impeccable track record, setting the industry standard for such deployments. It is the solution of choice for all leading global subsea engineering contractors. It is due to the reliability of the SDM package that we have achieved 100 successful installations. The SDM has been developed by listening to feedback from many key clients. Our 12-year partnership with RTS has been marked with new developments addressing efficiency and timesaving efforts offshore. The next generation is already in development."
Freddy Knutsen, general manager, RTS, says, "The first initiative to develop the SDM system came from one of the oil majors in Norway in 2007. The need for an instrument package that could give them safer, faster and more accurate structure installations was crucial. Since then, the SDM has become the industry standard for structure installations by all the major oil companies."
The SDM system, manufactured and developed by RTS, is available for rental throughout Seatronics' global bases, provided with offshore expertise and technical support.