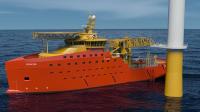 Rolls-Royce has signed a contract with the yard Astilleros Gondan in Spain to design and equip a second Service Operation Vessel for shipowner Østensjø Rederi. The vessel will support wind farm operations for DONG Energy.
The repeat order is for a new ship design from Rolls-Royce developed specifically to support operations in shallow waters at offshore windfarms. The order also includes an extensive equipment package.
Helge Gjerde, Rolls-Royce, Director Offshore & Merchant Solutions, said: "We are delighted that Østensjø Rederi and DONG Energy have chosen to exercise an option with Astilleros Gondan for a second vessel of our new concept. Developing advanced vessels for the renewable energy sector is a perfect way to make use of our vast offshore experience and diversify our Marine business."
The award winning UT 540 WP was developed in close cooperation with the customer and benefits from over 40 years of UT ship design experience across 800 vessels. The new design for offshore windfarm support has a high focus on seakeeping capabilities, station keeping performance, improved comfort and safety on board, and reduced fuel consumption.
The first wind farm vessel contract to Astilleros Gondan was announced in October 2015 and both vessels will serve as the base for wind turbine technicians while they perform maintenance work on offshore windfarms. A motion compensated gangway system with an adjustable pedestal will be installed to ensure safe operations and optimal uptime. The first vessel ordered will work on Race Bank Offshore Wind Farm, while the second will work on the Hornsea Project One wind farm, both off the coast of the UK.
As well as designing the vessel, Rolls-Royce will supply the diesel electric main machinery, consisting of frequency controlled electric driven azimuth thrusters, super silent mounted transverse thrusters, DP2 dynamic positioning system, power electrical system, deck machinery, and the latest generation Acon automation and control system.