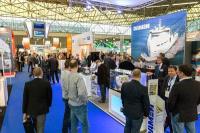 On 15 & 16 October 2013 the 6th Offshore Energy Exhibition & Conference was held Amsterdam RAI. The two-day event was attended by 9,123 international visitors, an increase of 20% compared to last year.
Official opening: The state of the world By the push on the button of Ko Colijn, Sander Vergroesen, Managing Director IRO, the Association of Dutch Suppliers in the Oil and Gas Industry and Coert van Zijll Langhout, Managing Director of Offshore Energy's organizer Navingo BV, Offshore Energy 2013 opened its doors. Vergroesen spoke about the offshore business which is in the middle of worldwide developments and comes with challenges, threats, demands and a lot of opportunities. In addition Ko Colijn, General Director "Clingendael" Netherlands Institute of International Relations, addressed the current and expected political consequences of the conflict in the Middle East in relation to the oil and offshore sector.
Exhibition For the sixth time in a row Offshore Energy s growing numbers. Almost 500 exhibitors (414 in 2013) showcased their innovative ideas, products and services to the industry. The exhibition was extended from one to three exhibition halls instead of one, including the new China Pavilion. True to tradition, both days ended with drinks on the exhibition floor. Exhibitors, visitors, delegates, sponsors, partners and speakers networked, socialized and toasted to new business and strengthened relations with existing clients.