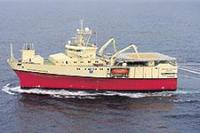 Statoil and its partners have completed their joint seismic acquisition project in the south-eastern Barents Sea. New forms of cooperation have ensured resource-efficient acquisition.
"We are pleased to have found a form of cooperation that has ensured good quality data sets and low acquisition costs. This warrants rethinking and exploring new business approaches and forms of cooperation in order to reduce costs and work more efficiently also elsewhere," says Jan Helgesen, Statoil's head of geophysical operations.
The Ministry of Petroleum and Energy last year encouraged the oil industry to jointly conduct resource-efficient 3D seismic acquisition in the south-eastern Barents Sea. Statoil has been the operator of a joint project with 33 participating oil companies acquiring seismic data in the area since April, with PGS and WesternGeco as contractors.