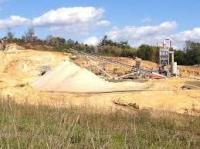 Select Sands Corp. has appointed Steven H. Goldman to the Board of Directors. Steven H. Goldman is a senior partner in the Toronto law firm of Goldman Hine LLP. Before joining that firm, he successfully led the restructuring and turnaround of the Speedy Auto Service and Minute Muffler franchise systems as their President and CEO from December 2007 until December 2009.
Mr. Goldman graduated from Carleton University in 1976 (BA, President's Medal) and from Queen's University in 1980 (LLB/JD). Mr. Goldman was called to the Bar in Ontario in 1982. He is a member of the Executive of the Ontario Bar Association, Franchise Section, the Law Society of Upper Canada, the American Bar Association Forum on Franchising, and the Institute of Corporate Directors.
Mr. Goldman is currently a director of Tribute Pharmaceuticals Inc. (trading on the TSX.V as symbol TRX), as well as a member of its audit and compensation committees. He is also a former director of Alegro Health Corp. (now known as Centric Health Corp., trading on the TSX as symbol CHH). Mr. Goldman will be replacing Darren Urquhart. Mr. Urquhart will remain the chief financial officer of the Company.