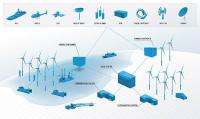 Together, Semco Maritime and Systematic have entered into a framework agreement with Vattenfall for SemPAM. The solution provides full overview of all personnel and vessels to improve safety for offshore and onshore work at wind farms.
Semco Maritime and Systematic have been tasked with delivering a fully-integrated resource tracking and communication system for Vattenfall's onshore and offshore wind operations. The solution, SemPAM, provides overview and safety for employees when Vattenfall construct and maintain the company's many wind farms in the UK, Germany, the Netherlands, Sweden and Denmark.
The solution can be integrated with Semco Maritime's other communication solutions and is built on well-known offshore radio infrastructure systems such as TETRA and DMR. With SemPAM, the coordinator is provided with one system to handle tasks and continuously generate a full overview of locations of personnel, vessels and helicopters when working onshore and offshore. The system facilitates easier and faster relocation of personnel and materials, while improving safety for employees in critical situations.
Senior Vice President Henrik Lunde, Semco Maritime, describes the agreement as strategically important: "We are very pleased that a leading player such as Vattenfall choses SemPAM as their new digital resource tracking management system for onshore and offshore operations. That also confirms the increasing demand for fully-integrated turnkey solutions such as SemPAM, which can be seamlessly tailored to the customer's specific needs."
Senior Manager Jacob Stenderup, Systematic, says that SemPAM builds on more than 30 years of experience with developing communication software for customers operating in tough and desolate areas with sparse infrastructure. "From our long-standing collaboration with numerous global customers, e.g. within the Armed Forces and the Navy, we know the critical importance of reliable communication and planning tools for use in extreme offshore conditions, and SemPAM has been conceived to meet these requirements."
Remco Boersma, director of Process and Support at Vattenfall says, "Due to our growth, Vattenfall was looking for a system to harmonise the different solutions for people and vessel tracking we utilise at the numerous sites we operate. From a safety perspective we felt the need to increase stability and quality of the communication with our technicians at site. Onshore as well as offshore. Both Semco Maritime and Systematic have year-long experience within the field of communication and surveillance systems for the offshore industry. We believe this agreement will help us working even more efficiently and further elevating the safety level for our personnel."