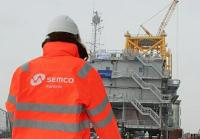 Semco Maritime has entered into a 5-year agreement for service and maintenance of substation for the Nordsee One wind farm. Opens new office in Norddeich, Germany.
Manufacturer of offshore substations for the wind industry, Semco Maritime, has entered into a 5-year contract for full service and maintenance of the substation, which controls the power from wind turbines in Nordsee One. Wind farm Nordsee One, which is installed in the German part of the North Sea, is owned by RWE and Canadian investor Northland Power Inc.
The service contract is the first under the new SemService concept, which was introduced by Semco Maritime last week in connection with the Danish engineer and contractor group's inauguration of a new office and offshore centre in Norddeich, Germany.
"Together with Bladt Industries, Semco Maritime has built one fourth of the offshore stations on the wind market today, which makes us one of the market's largest suppliers. Based on that knowledge and experience it is natural for us to offer service and maintenance work for substations as well," says Bjarne Christensen, Head of Service Operations at Semco Maritime's Wind, Oil & Gas division.
The SemService concept includes a complete package solution with services within low and high voltage, telecom, SCADA surveillance systems and other competencies necessary for servicing and maintaining an offshore substation.
"SemService can be compared to the auto industry where all necessary competencies within service and maintenance of the car are consolidated in one place."