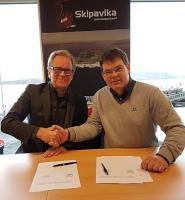 Semco Maritime and Skipavika have entered into a strategic agreement about a service preparedness for rigs located at the port facility Skipavika Terminal near Bergen. The cooperation consists in Skipavika providing facilities and Semco Maritime establishing its "Shipyard-in-the-Box" solution at Skipavika Terminal's area to have all necessary equipment, workshops and facilities present when a rig has to be serviced or reactivated. The agreement also comprises an intention to develop the submarine base Olavsvern near Tromsø as a rig service centre.
"Despite continued difficult market conditions for offshore oil and gas activities, we see signs of a pickup during 2017. With our 'Shipyard-in-the-Box' concept we are able to mobilise our team of rig specialists for preparation within 24 hours. That agility is decisive for rig operators that have to swiftly deliver an operational rig or a drilling vessel," says Lars Skov, CEO of Semco Maritime AS, Norway.
"To Skipavika Terminals, which currently has six rigs docked in cold and warm 'stacking', the agreement with a renowned rig service provider such as Semco Maritime makes it possible to offer instant assistance for vacant rigs that have to be prepared for new assignments," says Managing Director Lars Hellandsjø, Skipavika Terminal.
"In particular the Bergen area currently experiences increased interest for reactivation of rigs. In addition to increased operational options for the rigs that are here today, the agreement also makes Skipavika Terminal attractive for operators looking for assistance for a rig, which quickly has to be prepared for new assignments," says Lars Hellandsjø.
The agreement also includes joint plans to develop the former submarine base Olavsvern by Tromsø as a north Norwegian centre for large arctic semisub rigs, demanding a water depth of 20 metres to dock for service.
The new cooperation with Skipavika Terminal complements Semco Maritime's facilities at Hanøytangen – which has Europe's deepest dry dock – and the rig facilities at Invergordon, Scotland, and at the head office in Esbjerg.