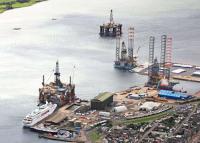 Semco Maritime has welcomed the recent arrival of two Maersk Drilling high specification jack-up rigs to its Invergordon ship-yard facility.
Maersk Reacher will be berthed in the Queens Dock facility for an undisclosed duration, carrying out necessary upgrades and modifications, whilst the recently constructed Maersk Highlander, following arrival by heavy lift from Singapore, will be at quayside for a short time, carrying out various commissioning tasks prior to naming ceremony and thereafter, mobilisation out to the Culzean development in the UK sector North Sea, on long-term contract.
Semco Maritime Rig Projects have provided support for various disciplines, including electrical, mechanical and construction, with a number of safety instrumented systems provided by Semco Maritime as original equipment during the construction of the rig being commissioned, prior to departure.
The Cromarty Firth and Invergordon Service Base was chosen as most suitable for both of these assets due to its strategic location in the North sea, with deep water shelter, the facilities offered by Port of Cromarty Firth and a long standing relationship with Semco Maritime as main contractor, providing full project management support to Maersk Drilling.
Semco Maritime are also nearing completion of a number of scopes of work for the semi-submersible rig, Paragon MSS1, prior to departing Cromarty Firth on a drilling contract.