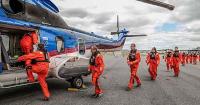 Semco Maritime Norway has been awarded a new framework agreement for supply of temporary staffing to Statoil ASA. The agreement applies to several types of specialists, both onshore and offshore, at Statoil's installations and onshore facilities.
"The contract is of great strategic importance to Operation Support at Semco Maritime Norway during a tense period in the oil industry as it holds the prospect of ensuring a significant number of jobs in the coming period. We are very pleased with the agreement as times are challenging in our industry," says Margunn Njå, Operation Support, Semco Norway.
"The agreement confirms that Semco Maritime Norway has a strong position in the Norwegian offshore market and is considered a professional and trustworthy partner. We consider it a vote of confidence to win this type of contact with the largest customer within offshore industry in Norway. We are now looking forward to a long and fruitful co-operation with Statoil under this contract," says Jan Robert Olsen, Sales, Semco Maritime Norway.
The framework agreement runs for four years and holds options for additional four years.
"We won this contract as a direct result of our strategy of focusing on our core business along with the consolidation of our activities in Norway," says Lars Skov managing director in Semco Maritime Norway.