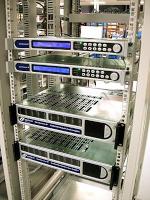 Semco Maritime, a global provider of communications solutions, telecoms systems integration services and collaborative applications to the offshore oil and gas industry, has won a multi-million dollar contract to deliver communications systems and infrastructure for the production platforms at the new Maersk Oil operated Culzean field in the UK sector of the North Sea.
The award of this contract by Singapore based yard Sembcorp Marine Offshore Platform Pte. Lts. continues Semco Maritime's long-term success in the delivery of integrated telecommunications and operations support systems for a diverse range of offshore applications.
The Culzean complex consists of a central processing platform, a wellhead platform, a living quarter platform and two connecting bridges. Production from the natural gas field is expected to commence in 2019.
The contract's scope of work includes the integration and delivery of critical facility communications infrastructure, including e.g. Line Of Sight radio to FSO, Satellite communication, structured cabling/fibre, Telephony, Public Address/General Alarm (PA/GA), Entertainment System, Closed Circuit Television (CCTV), People on board (POB) & Access Control (ACS), Meteorological Systems, Radio Systems, Telecom Monitoring Systems (TMS) and Radar Systems. The project team comprises staff from Denmark and Singapore, who will be working closely together throughout the project execution stage.
According to head of Semco Maritime Products & Technology Division, Senior Vice President Henrik Lunde, the order confirms Semco Maritime's strategy of being present with offices and experts in the North Sea and Asia regions.
"This project demonstrates Semco Maritime's ability to deliver proven, reliable and cost-effective communications solutions to hydrocarbon-based offshore operations," says Henrik Lunde. "We are proud to be a valued supplier to Sembcorp Marine Offshore Platform Pte. Ltd. and Maersk Oil."