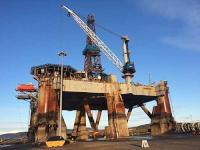 Semco Maritime has won a contract with Paragon Offshore for intermediate classification and service works on the SemiSub Drilling Rig Paragon MSS1, preparing the rig for future activities.
The service works will be performed at Semco Maritime's rig facilities at Invergordon, Scotland, over an estimated period of 60 days.
According to head of Semco Maritime Rig Projects, Senior Vice President Lars Skov, Semco Maritime was chosen due to its strategically located rig facilities at Invergordon, Hanøytangen (Norway) and Esbjerg (Denmark), together forming the North Sea rig triangle operated by Semco Maritime.
"Our three strategically located hot spots in UK, Norway and Denmark offer the kind of flexibility, convenience and cost-efficiency that many of our rig clients are looking for in the current market", says Lars Skov, while he first and foremost ascribes the order to Semco Maritime's broad experience within rig service.
Besides Invergordon, Semco Maritime rig facilities comprise yard facilities in Esbjerg (typically minor rig projects) as well as Hanøytangen, Norway, with an all-size dry dock and quay depths of more than 100 metres.