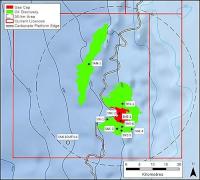 Cairn has announced the results of another successful appraisal well offshore Senegal. Rig performance continues to be excellent and operations have been safely and successfully completed ahead of schedule and under budget following drilling, logging and drill stem testing (DST).
The objective of the SNE-6 well, together with the previous successful SNE-5 well, was to flow oil from one of the principal units in the upper (400 series) reservoirs and demonstrate connectivity between the two wells. Pressure data from SNE-6 immediately confirmed good connectivity with SNE-5 and accordingly a short DST was performed.
Simon Thomson, Chief Executive Cairn Energy PLC, says, "This is our ninth successful well in Senegal in three years. The results from this latest well together with SNE-5 and VR-1 provide essential data as we move towards submitting a development plan for the SNE field to the Government of Senegal in 2018. Operations now move to FAN SOUTH as we continue to test significant further prospectivity in the extensive acreage position."
SNE-6 is being plugged and abandoned and the Stena DrillMAX drill ship is moving location to commence operations at the FAN SOUTH exploration well, ~20 km south west of the SNE-3 well in ~2,175 metres water depth. FAN SOUTH is targeting a mean prospective resource of more than 110 mmbbls with dual prospects; an Upper Cretaceous stacked multi-layer channelised turbidite fan prospect and a Lower Cretaceous base of slope turbidite fan prospect, which is equivalent to the FAN-1 2014 oil discovery.