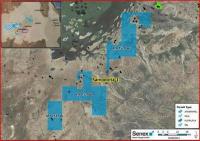 Senex Energy Limited, as operator of southern Cooper Basin permit PPL 207 (Senex 70%, Cooper Energy Limited, 30%) has discovered a new oil accumulation in the Patchawarra Formation at Worrior oil field.
The Worrior-8 development well was drilled in June 2013 to a total depth of 1,778 metres and intersected a net pay originally interpreted as up to 18 metres across the McKinlay Member, Namur Sandstone and the Patchawarra Formation.
On 29 October, Senex completed Worrrior-8 to allow flow testing from the Patchawarra Formation as information from Worrior-1 and petrophysical analysis, as well as good oil and gas shows, in Worrior-8 had indicated the formation was potentially gas bearing. The intention was to assess whether an opportunity existed to convert the fuel usage for the Worrior field from diesel to gas. Subsequent to the test, the well was scheduled to be completed as an oil producer from shallower horizons, including the McKinlay Member and Murta Formation.