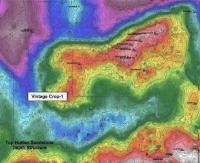 Senex Energy Limited has now drilled seven wells of its FY15 drilling program in the South Australian Cooper-Eromanga Basin, and spudded the eighth. Five of these wells are located in the northern flank of the Cooper Basin.
Akela-1 oil exploration well (PEL 110: Senex 60% and operator, Cooper Energy 20%, Orca Energy 20%)
The Akela-1 exploration well spudded on 29 October and was drilled to a total depth of 2,676 metres to evaluate stacked oil potential across an interpreted four-way dip-closed structure in the northern flank of the Cooper Basin. The well encountered trace to poor oil shows, with the best oil shows occurring in the Birkhead Formation. A basal sandstone in the Birkhead Formation was identified as a potential hydrocarbon bearing zone however several attempts to sample reservoir fluids from this formation were unsuccessful due to poor borehole conditions.