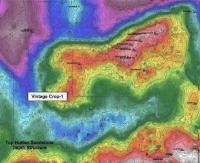 Senex and its joint venture partners have drilled 11 oil wells over the last four months, with nine wells cased and suspended for future testing and production.
Dunlop-1 exploration well (PEL 113: Senex 100%)
The Dunlop-1 exploration well flowed at 1,200 barrels of oil per day (bopd) during drill stem testing after intersecting approximately three metres of net pay in the McKinlay Member.
Dunlop-1 spudded on 1 October and reached a total depth of 1,469 metres. The well is located 4.7 kilometres southwest of the Harpoono-2 oil well in the southern Cooper-Eromanga Basin.
Senex will complete the well for production during November.
Sprigg-1 exploration well (PEL 514: Senex 80% and Operator)
Ensign Rig 754 cased and suspended the Sprigg-1 exploration well after successfully intersecting 6.3 metres interpreted net pay in the Murta Formation with gas shows in the Arrabury and Birkhead Formations. Testing of the potential pay zones will be undertaken subject to rig availability. The well reached a total depth of 2,472 metres and is located 4.5 kilometres west of the Acrasia oil field.