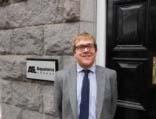 John Thomson has been appointed as Senior Riser Analyst with specific focus on deep water project analysis within the expanding specialist Aquaterra Energy team in Aberdeen.
Aquaterra Energy's team in Scotland is delivering the full scope of analysis, engineering design and project management, in projects for a number of clients including high pressure riser systems and subsea protective structures. The company is also responding to a healthy demand in the region for its extensive service and rental offering, designed to enable rapid response to clients' needs.
Over the past year the team in Aberdeen has grown with senior recruits filling strategic roles. Thomson adds to this with specialist engineering experience in the design and numerical analysis of riser systems, including drilling and production risers, Jack-up systems, completion risers and conductor systems. His experience spans both shallow and deep-water projects and he has previously worked at 2H Offshore Engineering Ltd. as an engineer, involved with drilling riser analysis, conductor analysis and wellhead analysis on a number of key projects.