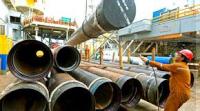 Serica Energy commences drilling of the SM-1 well in Morocco.
Genel Energy, the operator of the Morocco Sidi Moussa licence, has informed Serica that the semi-submersible rig 'Noble Paul Romano' has been secured on location and that the SM-1 well spudded at 23:10 hours on 30 July 2014. The well, located approximately 60km off the west coast of Morocco in c.990m of water, is anticipated to take between 60 and 90 days to complete operations.
Serica holds a 5% interest in the Sidi Moussa licence and is carried on the drilling costs of the well up to a gross cap of US$50 million with an expected limited contribution above this level. This well is a commitment well in the first extension period of the licence.