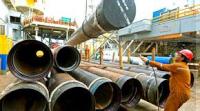 Serica Energy plc says that agreement has been reached with BG International Limited and SSE E&P UK Limited for BG and SSE to transfer their equity in that part of Block 23/21a which contains an extension to the Columbus field to the Block 23/16f participants, Serica Energy (UK) Limited, Endeavour Energy UK Limited and EOG Resources United Kingdom Limited, for a nominal sum.
The transaction is subject to the consent of the Licensing Authorities, and is in the spirit of the Oil & Gas Authority's commitment to expediting UK offshore oil and gas field developments.
Block 23/21a Columbus Subarea lies directly south of Block 23/16f. The BG and SSE interests in the Block 23/21a Columbus Subarea are being transferred to the Columbus Participants in proportion to the interests held by the Columbus Participants in Block 23/16f.