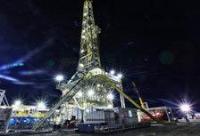 Serinus Energy Inc. announce that the Makeevskoye-17 (M-17) exploration well has been cased to total depth (TD) of 3,445 meters. The Olgovskoye-24 (O-24) well has also produced gas during a test, and will be added to the inventory of wells to be stimulated in 2014.
The operator, KUB-Gas LLC (KUB-Gas) is preparing now to complete, test and tie in M-17. KUB-Gas is a partially-owned subsidiary in which SEN has a 70% effective ownership interest through its 70% shareholding of KUBGas Holdings Limited.
Makeevskoye-17 Finds Multiple Gas Zones
The M-17 well was drilled to appraise the gas discovery made in the S6 sandstone in Makeevskoye-16 ("M-16"). It is located about 1 kilometre to the northwest of M-16 within the same structural closure. Drilling commenced at the end of November 2013 and reached a total depth (TD) of 3,445 metres in early March.