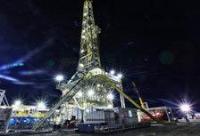 Serinus Energy Inc. report that the Moftinu-1001 exploration well has commenced drilling.
Moftinu-1001 is located in the Satu Mare Concession (Satu Mare) in northwest Romania and is the first of a two well drilling program by the Company in that concession. The planned total depth is 1,848 metres and the well is expected to take 18 days to drill. The rig will move to the second location, Moftinu-1002bis, immediately after drilling and casing Moftinu-1001.
Both wells are following up on the Moftinu-1000 well drilled in 2012, which tested an aggregate of 1.6 MMcf/d from two zones. Moftinu-1000 was drilled prior to the acquisition of 3D seismic over the area, and is located down dip of both the Moftinu- 1001 and 1002bis wells.