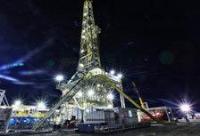 Serinus Energy Inc. says that the Makeevskoye-22 (M-22) exploration well has reached its total depth of 3,629 metres, and has encountered gas in six zones. Two of those zones appear to be net pay, with the other four having resource potential.
Casing has been run and cemented, and the operator, KUB-Gas LLC, is now preparing to complete, test and tie-in the well. KUB-Gas is a partially-owned subsidiary in which SEN has a 70% effective ownership interest through its 70% shareholding of KUBGas Holdings Limited.
M-22 was spud on October 1, 2014, and is located on the southwest side of the major fault that runs through the Makeevskoye and Olgovskoye licences.