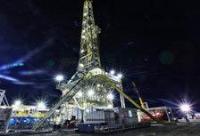 The well location for Winstar-12bis is now complete and work on the well location of Winstar-13 is underway (Note that the wells have previously been referred to as Sabria-12bis and Sabria-13). The drilling rig is scheduled to mobilize to the site in the middle of May.
The Sabria field is currently producing at a rate of 475 bopd and 1.29 MMcf/d (214 bopd and 0.58 MMcf/d SEN WI). The Company has been conducting a program of optimizing the choke size on the Sabria wells, beginning with Sab?11, one of four wells producing in the Sabria field, and which began producing in 2007.
Since early Q4 2013, the choke size has been increased in stages from 10/64" to 16/64" now, resulting in an overall increase in oil production from that well from 130 bopd to 180 bopd. The Company has expanded the test program to the other Sabria wells.