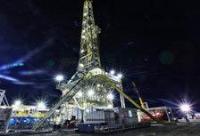 Serinus Energy Inc. reports preliminary results from the Moftinu-1002bis exploration well in Romania.
Moftinu-1002bis is located in the Satu Mare Concession in northwest Romania and is the second of a two well 2014 drilling program by the Company in that concession.
It was spud in early December, and reached a total depth of 2,083 metres on December 27, 2014. Open hole wireline logs, mud logs and/or drill cuttings indicate seven Cenezoic aged sandstones with an aggregate of 90.5 metres of hydrocarbon bearing rock, and 22 metres of potential net pay.